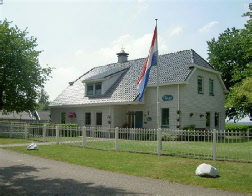 We have been breeding  Drentsche partridge dogs since 1982. Using the kennel name "fan` t Suydevelt ". With some regularity, we have a litter. Our dogs are known for their gentleness and honesty and we want to keep it that way! Through strict selection and knowledge of the breed, we seek to achieve our goal. As a breeder, it is sometimes difficult to stand in line with others. But that's a health als long as you agree together in the end! We are certainly not "cocky", but do it our "own way".
Gossiping and backbiting we dislike. Rumours will be there anyway.
Usually, the adage "the best pilots are ashore" is valid then.
Or as a wise Chinese proverb says: "It takes two years to learn to speak, it takes a lifetime to learn silence."
Of course we are a member of the breed association. This is a prerequisite for us in breeding  because our race should be maintained.
There are no concessions to the health and character.
Good contact with the puppy-buyers now and later is very important to us!
If you are interested in a puppy, you can always reach us by phone or via email.
However, only seriously interested!
The fun of breeding and showing is that you meet so many people and get to know them.
Beautiful to be together with other dog lovers. To have a commom hobby and to promote our breed?!
And let's be honest ….. We can be proud of such a beautiful national breed!
Breeding is our passion, but we must also earn our living. So we are pleased that our work in the animal sector. We run a boarding kennel for dogs and cats  which we started in 1992. Many customers from national and abroad know how to find us. For us this is an indication that we are on the right track! You can read about this in the section 'Pension'.
Perhaps we shall meet in a show in the Netherlands or abroad?! We visit shows regular. Especially in the Netherlands, but also abroad, we are often in the show ring. Sweden will soon be launched. All over the world we have sold our dogs.